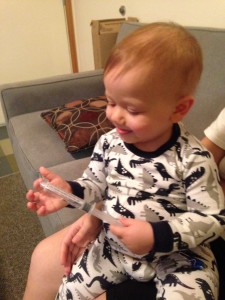 Let's just say it has not been our week.  After receiving the news that Idan's T-cells aren't engrafting as we all hoped they would, we are now back in the hospital because Idan spiked a fever today.  There are a number of things that can cause a fever post-transplant.  It can range from a virus, to an infection, to GvHD.  And sometimes, the cause remains unknown.  For now, we wait to see what the blood tests show and if there's any other symptoms.  
We are probably going to be in the hospital for the next two to three days at least.  They have to wait until the fever breaks (i.e., it stays below 100.3 for at least 24 hours and no tylenol needed), and 48 hours of "negative" blood work (no infections in his central line).  In the meantime, Idan has received a few visits from his old friends, and the physical therapist even dropped off the floor mat he loved playing on so much the last time.  Idan, as per usual, is telling jokes to all the nurses and entertaining all who enter his room.  Of course it's eerie to be walking these halls again, and especially eerie that they put us in a room that is the mirror image of our old room.  It all feels a bit like a bad dream, but we hope to be out of here soon.
In less than a week, the chimerism test will be repeated and we will find out whether the DLI is an option.  Let's hope our luck turns around by then!